Stray pup is found inside a shoe. Check out this case!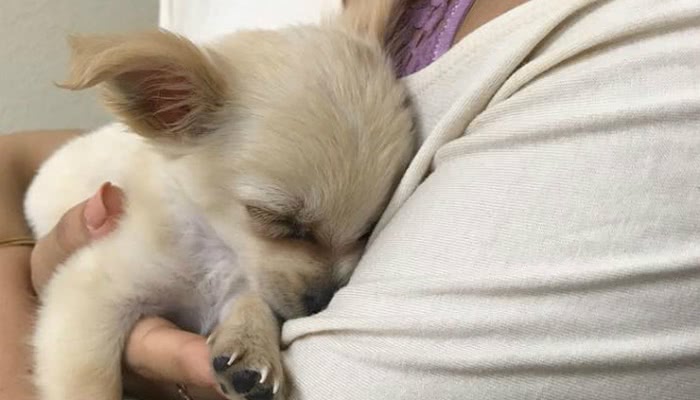 Goran Marinkovic is an animal rights activist who whenever he walks the streets of Kraljevo, takes some food with him. With that, the boy feeds more than 100 dogs and cats, being able to be a puppy or even an adult, in a homeless situation.
This is a routine in the life of Goran who, in March 2020, was very lucky to find a very debilitated puppy dog, in a situation that needed help quickly.
He reports that he was walking when he heard a cry coming from nearby rocks, so he went to check what it was. When he arrived at the place, he was faced with an extremely painful situation to behold. The bitch was very cold, hungry, thirsty. 
Luckily, as I said, he had some food with him, so feeding her wasn't a problem, but it was obvious that the little bitch needed extra care.
Also according to her accounts, she lived next to a pile of rubbish and used an old shoe as a shelter from the cold. And yes, Goran also figured she was just lost, but the situation, in the end, wasn't that, there weren't any other dogs around.
When approaching her, reports Goran, she was extremely docile. As she was so hurt and sick, she just surrendered to what could be. So it was that the boy fell more and more in love with the little animal.
After that, of course, she was taken to the vet for proper care. She had gone through a lot in a short time, so it was a little tricky to know if she could survive it. However, to her surprise the little dog refused to give up and managed to resist everything!
After some recovery time, a puppy named Coco regained her strength and showed a very loving personality. In fact, she loved to play and developed a very sweet side.
As soon as some time passed, the Serb started posting pictures of her on his social networks and, as expected, a flood of people wanted to adopt the Coco puppy. However, Goran wanted to make sure that she would be in a good place, with a family that truly loved him.
So, after going through so many things, Coco gained a lot of possibility to receive a home. In the end, she got it, the little dog who was once inside a shoe fleeing the cold, is now in Germany!
After 1 year, the little dog has already changed a lot. Taken from a place where she was probably going to die and placed in a house with a family that loves her, Coco was much happier and her happiness spreads throughout the house. After all, that's how she is now.
After going through this process, Goran made clear his great desire to see all dogs and cats with a home to live in, after all, the situation for some is as deplorable as Coco's and he understands well what the little dog went through.
There are many stray dogs and cats, so you can't be too careful. And, in his words, it's always great to be able to take care of the animals, whether with the food he offers or even finding a home for them!
See the pictures!